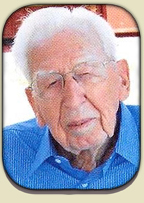 Eldor F. Mittelstaedt

ELDOR F. MITTELSTAEDT, age 95 of Waseca, died on Sunday, October 26, 2014 at Lake Shore Inn in Waseca.

Born on February 14, 1919 in St. Mary Township, Waseca County, Minnesota, Eldor was the son of Fred and Malinda (Seewald) Mittelstaedt.  He attended rural Waseca County School and later farmed with his father.   Eldor married Vera Wetzel June 4, 1941 at Bethlehem Lutheran Church in Elysian and were married for 70 years.  They lived on the family farm in St. Mary Township and operated the farm until retiring in 1979 when they moved into Waseca.  In his retirement, he enjoyed many hobbies including hunting, fishing, gardening, reading, traveling and working with stained glass. He was a member of St. Paul Lutheran Church in Waseca and served on the Elder Board for twenty nine years.

Eldor is survived by two children, Lois (Conrad) Fiskness of Chanhassen and Russell (Pat) Mittelstaedt of Brooklyn Park; four grandchildren, Jon (Amy) Fiskness  of Duluth, Andrew (Susan) Fiskness of Maplewood, Abby (Brett Cakerice) Mittelstaedt of Minneapolis, and Max (Megan) Mittelstaedt of Savage; two step-grandchildren, Andy (Tracy) Halvorson of Hudson, WI and Brian (Kathy) Halvorson of White Bear Lake;  eight great grandchildren; two sisters, Marvel Miller of Waseca and Dorothy Kopischke of Janesville; sister-in-law, Catherine Wetzel of Brooklyn Center; and many nieces, nephews, cousins and friends.  He was preceded in death by his parents, wife, sister-Deloris Guse, and infant sister-Norma.  Eldor will be remembered for his love of family, his strong faith and his many friendships.

Funeral services will be held on Friday, October 31, 2014 at 11:00 AM at St. Paul Lutheran Church in Waseca.  Burial will follow at St. John's Trinity Lutheran Cemetery in Iosco Township, Waseca County.  Visitation will be held from 9:30 AM until the time of services at the church on Friday.