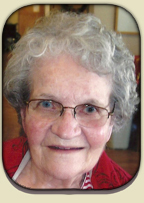 Marilynn A. Morsching
MARILYNN A. MORSCHING, age 88 of Waterville died on Sunday, December 14, 2014 at the Waterville Good Samaritan Center.
Born on September 1, 1926 in Mankato, Minnesota, she was the daughter of William and Sophie (Bauer) Ehrke.  She attended and graduated from Le Center Public Schools.
She married Paul Morsching on May 2, 1949 at St. Paul's Lutheran Church in Le Center.  Marilynn graduated from Mankato Business College and worked as a secretary and bookkeeper.  She was employed at Southern MN Grocery Supply in Waseca, Associated Lumber Mart in Waseca and American Family Insurance in Waterville until her retirement.  Following her retirement, Marilynn delivered the Waseca Shopper in town for many years and really enjoyed visiting with the customers.  She also enjoyed quilting and wood crafting, making wedding quilts and Christmas ornaments for each grandchild.  She loved watching the birds, her favorite being the cardinal.  She volunteered at the Good Samaritan Center and was active with her ladies church group.  Her family remembers her sense of humor, a talent for visiting everyone she met, and her high level of energy.
She is survived by one son, Gary Morsching and his wife, Jannelle of Waterville; three daughters, Kay Cram and her husband, Mel of Waterville, Lynn Bruess and her husband, Tom of New Prague, and LuAnn Mlodzik and her husband, Jeff of East Grand Forks, MN;  16 grandchildren, Jason Morsching (Krissy Green), Jarad Morsching, Jon (Laura) Morsching, Tricia (Chase) Williams, Jannah Morsching, Thomas Morsching, Nathan Cram, Karissa (Pat) Judd, Nick (Amy) Cram, Katrina (Mat) Routh, Alex Bruess, Tim Bruess, Luke Bruess, Sarah (Dan) Hillier, Hannah Mlodzik, and Gabe Mlodzik; and 16 great grandchildren.  She is also survived by three sisters-in-law, Ruth Dahl, Eleanor Youngerberg, and Phyllis (Del) Pope.  She was preceded in death by her parents; her husband, Paul; one grandson, Matthew Bruess; and one infant sister, Lorraine.
Visitation will be held at Dennis Funeral & Cremation Services in Waterville on Thursday, December 18, 2014 from 4-7 PM and continue on Friday, one hour before services at the church.
Funeral services will be held on Friday, December 19, 2014 at 11:00 AM at St. Peter "Bell" Lutheran Church in rural Waterville with Pastor Russ Grabau officiating.  Burial will follow at St. Peter Lutheran Cemetery.
In lieu of flowers, memorials are preferred to St. Peter "Bell" Lutheran Church.