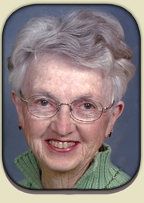 Therese A. Nord
THERESE KAHNKE WESLEY NORD, age 81 of Waterville died on Monday, May 12, 2014 at the Mayo Clinic Health System in Mankato.

Therese Kahnke was born on December 28, 1932 the last of seven children born to Vincent and Mary (Lynch) Kahnke.  Her parents farmed near Waseca, Minnesota.  Therese went to country school through eighth grade and then transferred to Sacred Heart High School where she graduated in 1950 – the first and only of her siblings to finish high school.

In 1951 she married Richard Wesley and moved to Waterville to become a farm wife.  1952 brought her first child – Steven; in 1953 Sylvester and in 1955 she had her first daughter, Kathryn.

1958 was a life-changing year for Therese.  It began with she and her husband buying a farm in Waterville and ended with the birth of their fourth and final child, Richelle.  But in June of 1958 Richard was killed in a farm accident leaving Therese a single mother of four.  She used to muse that she was a single mother before it was fashionable.

She made her living throughout the 1960's as a farmer and also took a job as a secretary at the Waterville-Elysian School.  She was a widow for 13 years, but through her job at the school she met Robert Nord – the high school principal.  Robert and Therese married in 1972.  At the time of her death they were just one month from celebrating their 42nd wedding anniversary.

With Robert's support, Therese became a florist and ran La Petite Flower Shop in Waterville.  She also raised pure-bred Sharpe puppies and Belgian horses.  Her hobbies included quilting, basket weaving, gardening, traveling and spending as much time as possible with her family including 5 grandchildren and 3 great- grandchildren.

She is survived by her husband, Robert; sons,  Steven (Kathy) and Sylvester (Debra) Wesley of Waterville; daughters, Kathryn Wesley (Steven Paprocki) of St. Paul  and Richelle Wesley of Eagan; sisters-in-law and brothers-in-law, Irene Kahnke and Evelyn Kahnke of Waseca; Richard (Barbara) Nord of Arizona; LeRoy (Barbara) Nord of Alaska; and Bonnie Stassen of Inver Grove Heights.  She is being mourned by countless nieces, nephews, cousins and dear friends.  She was preceded in death by her parents and siblings. 

Visitation will be held at Dennis Funeral & Cremation Services in Waterville on Wednesday, May 14, 2014 from 4-7 PM and continue on Thursday, one hour before services at the church. There will be a 9:30 AM rosary service on Thursday at the church.

The Funeral Mass will be held on Thursday, May 15, 2014 at 10:30 AM at Holy Trinity Catholic Church in Waterville with Rev. Michael Ince officiating. Burial will follow at Calvary Cemetery.