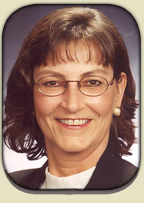 Debra L. Paulson
DEBRA LEE PAULSON, age 59 of St. Clair, Minnesota died on Tuesday, October 21, 2014 surrounded by her loving family.
Born on September 15, 1955 in Minneapolis, Minnesota she was the daughter of Elmer "Pete" and Ruby Joyce (Lund) Peterson. She attended school in Minnetonka before graduating from Waterville-Elysian High School. Debra was employed at Casey's in Waterville for ten years and also worked at Winland Electronics in Mankato. She enjoyed horseback riding, motorcycling, camping and traveling. She also enjoyed making Swedish pancakes for her grandkids and spending time with family.
She is survived by her son, Nathan (Anne) Paulson of Kilkenny; daughter-in-law, Lisa Opert (Chris Taylor) of Waterville; mother, Ruby Joyce Peterson of Waterville; eight grandchildren; and one great-grandchild. She is also survived by one sister, Cheryl Fitzloff of Mankato; an aunt and uncle and many nieces, nephews, cousins and friends. She was preceded in death by her father, one son-Lee, one granddaughter-Alicia, and one brother-Richard.
Visitation will be held Thursday, October 23, 2014 from 4-8 PM at Dennis Funeral & Cremation Services in Waterville.
Memorial Services will be held Friday, October 24, 2014 at 10:00 AM at North Waseca Lutheran Church with Rev. Nancy Hansen officiating. Burial will follow at North Waseca Lutheran Cemetery.