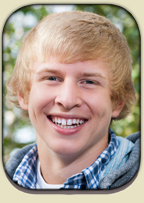 Preston Peterson

PRESTON ROBERT PETERSON, age 18 of New Richland, died on Wednesday, December 17, 2014 at his home.

Born in Waseca, Minnesota on February 22, 1996, he was the son of Thomas and Tamara (Breck) Peterson.  Preston graduated from NRHEG High School in 2014 and then attended South Central College in North Mankato.  He had been employed at various locations including Blondies Café in New Richland, Wagner Foods and Dominos.  Preston enjoyed music, sports-especially football, hunting, fishing, video games, and learning about history.

Preston is survived by his parents, Tom & Tammy of New Richland; six siblings, Payden, Parker, Palmer, Perry, Paige, and Porter all of New Richland; paternal grandparents, Bob and Dar Peterson of New Richland; maternal grandfather, Wayne Breck of New Richland; and several uncles, aunts and cousins.  He was preceded in death by his maternal grandmother, Evelyn Breck.

Visitation will be held on Sunday, December 21, 2014 from 2-7 PM at NRHEG High School in New Richland and continue on Monday one hour prior to the service at the school.

The funeral service will be held on Monday, December 22, 2014 at 11:00 AM at NRHEG High School with Pastor Steve Thompson and Pastor Michael Behm officiating.  Burial will follow at Vista Lutheran Cemetery in Waseca County.