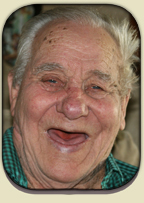 Lucias "Lute" Remington
LUCIAS FRANCIS "LUTE" REMINGTON, age 93 of Waterville, died on Friday, April 4 2014 at Traditions of Waterville.
Born on September 18, 1920, Lucias was the son of Salmon and Mary (Thomas) Remington. He attended school in Waterville before working at the local CC Camp. He then rode the rails and explored the country for several years before being drafted into the United States Army. He served for 38 months in the Pacific Theater before his honorable discharge. Lucias was married to Ellen Rose Stam in Owatonna on November 11, 1946. Following his marriage Lute worked on the railroad for a few years before attending Dunwoody College. Upon his graduation he returned to the railroad where he worked until his retirement. He enjoyed gardening, hatching exotic birds, raising horses, talking with friends on CB Radios, and playing the violin, harmonica, and the potato-bug mandolin.
Lucias is survived by seven children, Maurine (Dan) Caspari of Morristown, Linda (Bruce) Froderman of Lakefield, Phyllis (Fred) Brandt of Mankato, Alan (Sally) Remington of Wells, Denise (Patrick) Toomey of Winterhaven, FL, Pete (Karen) Remington of Morristown, and Carrie (Erik) Luna of Bloomington; one sister, Nadine Glidewell of Mt. Washington, KY; one son-in-law, Patrick Vanier of Eustice, FL; twelve grandchildren; eight great-grandchildren; one great-great-grandchild; and many nieces and nephews. He was preceded in death by his parents; his wife; one daughter, Debbie Vanier; two brothers, Louis and Aziza (Viola) Remington; and three sisters, Mary (George) Herbert, Lulu (Marshall) Stam, and Annette (Leo) Wunderlich.
Funeral services will be held at 10:00 AM on Tuesday, April 8, 2014 at Dennis Funeral & Cremation Services in Waterville. Visitation will be held for one hour before the service at the funeral home. Interment will follow at Sakatah Cemetery in Waterville.