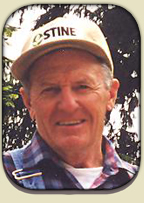 Henry Rieck

HENRY JOHN WILLIAM RIECK, age 83 of rural Waseca, went to be with the Lord on Thursday, November 20, 2014 at Wealshire of Bloomington, MN.

Henry was born in the home on the farm where he lived his entire life on December 24, 1930 in Woodville Township, Waseca County, MN, the son of Paul and Annie (Rae) Rieck.  He attended Waseca County School District #35 and Waseca Central High School.  On January 10, 1953, Henry married Ileen Lois Voss at St. Paul's Lutheran Church of Meriden, MN.

Henry, along with his beloved wife and seven children, created an award winning dairy farm.  Henry won awards for his herd production as well as being recognized as Outstanding Young Farmer.  Henry worked very hard but also loved to play.  When he wasn't farming, you could find him hanging with friends or family playing cards, shooting pool, or playing any other type of competitive game.  For many years he was in a bowling league and also enjoyed square dancing.  His greatest joy was time spent with his wife, children, grandchildren and great grandchildren and sharing his candy and ice cream.

Henry was an active member of St. Paul's Lutheran Church, serving as a Sunday School teacher, member of the church council, and sang in the choir.  He was a member of the Woodville Hustlers 4-H Club and Dairy Herd Improvement Association, the Waseca Soil and Water Conservation Board, an AMPI Director, and Waseca Eagles Club President.

Henry is survived by his wife Ileen of Waseca, children, Perry (Cindy) Rieck of Waseca, Julie (Doug) Bartelt of Bixby, Valerie (Bob) Bartelt of Ellendale, Melonie Rieck of Anchorage, AK, Betty (Joel) Weber of Waseca, Casey (Valerie) Rieck of Utica, and Christie (William) Hayes of Lakeville; grandchildren, Thomas (Katie) Rieck, Katherine Rieck, Sam (Janet) Bartelt, Nick (Steph) Bartelt, Noah (Tracy) Bartelt, Neil Bartelt, Janelle Bartelt (fiancé- Douglas Heath), Michael Bartelt (fiancé-Jennifer Harguth), Jon (Kristine) Weber, Melissa Gilmore, Christopher Weber, Megan (James) Flintrop, Michael Miller, Sarah (San) Syhakhoun, Charlie Hayes, Courtney Hayes, and nine great-grand children. He is survived by his sister Lillian Abbe of Lexington VA, sister-in-law June Voss Hanson of Owatonna MN, brother-in-law Donald Sotebeer of Byron MN, as well as several nieces and nephews. He was preceded in death by his parents, his brother-in-law Loren Abbe, sister-in-law Lois Sotebeer, grandson Howie Hayes, and nephew Randy Abbe. 

Visitation will be held Monday, November 24, 2014 from 4-8 PM at Dennis Funeral & Cremation Service in Waseca and continue one hour prior to the service at the church on Tuesday.

Funeral services will be held at 10:30 AM on Tuesday, November 25, 2014 at St. Paul's Lutheran Church of Meriden with Rev. Patti Meyer officiating. Burial will follow at St. Paul's Lutheran Church Cemetery.