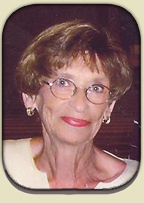 Shirley M. Ristau
SHIRLEY M. RISTAU, age 77 of Waseca, died Friday morning, May 9, 2014, at her home after a yearlong battle with cancer.
Shirley was born on November 30, 1936 in rural Hartland, Minnesota to Irvin A. and Cordelia G. (Gulbrandson) Olson.  She graduated from Albert Lea High School in 1954.  She attended Minnesota School of Business following graduation and graduated as a Medical Lab Technician.  She began her medical career working for Dr. Normann and later at the Waseca Clinic for 26 years.  She then ventured into private business with some friends and started the Happy Hands Shop, which she owned for 12 years before selling.  She was a member of St. Paul Lutheran Church and worked with the Cotta Guild for many years.
She married Lavern (Skip) Ristau on November 10, 1956 in Albert Lea, Minnesota.  They lived briefly in Alabama while Skip was in the military, then moved back to Minnesota and lived in rural Waseca ever since.  For the last 19 years they wintered in Mesa, Arizona, where they enjoyed their retirement. 
Shirley was a very talented painter, having taken it up after leaving the medical field.  She enjoyed a variety of painting techniques and numerous other crafts.  She loved to read, play bridge with friends, would spend many late nights playing Nintendo with her three grandchildren, playing computer games and going to Mystic Lake with Tam and Kate, and spending time with her children, grandchildren, and great-grandchildren.  She will be missed by all.
She is survived by her mother Cordelia Olson of Waseca; husband, Skip of Waseca; two children, Greg "Skip" and Diane Lewis of Waseca, and Tammy (Dale) Liska of Clarks Grove; grandchildren, Jennifer (Brandon) Bauleke of Savage, Joshua (Angie) Ristau of Waseca, Katie Liska of Clarks Grove, and Bethany Lewis of St. Louis Park; six great-grandchildren, Charlie, Will, and Lucy Bauleke, Corbin and Cullen Ristau, and Briley Gorder.  She was preceded in death by her father. 
Visitation will be held at Dennis Funeral & Cremation Services in Waseca on Friday, May 16, 2014 from 4-8 PM and continue on Saturday, one hour before services at the church.
Memorial services will be held on Saturday, May 17, 2014 at 11:00 AM at St. Paul Lutheran Church in Waseca with Rev. David Baumgarn officiating.