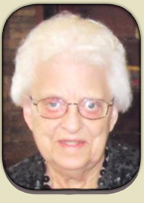 Alice A. "Alie" Robinson
ALICE A. "ALIE" ROBINSON, age 82 of Waseca, died on Saturday, May 24, 2014 at Colony Court Memory Care in Waseca.
Born in Waseca County on July 10, 1931, Alice was the daughter of Louis and Elsie (Grunwald) Born.  She grew up in Waseca and graduated from Waseca Central High School in 1950.  On May 8, 1954 Alice married Martin "Jerry" Robinson at the Salem Evangelical United Brethren Church in Waseca.  She worked for several years as a bookkeeper before taking a position with E.F. Johnson Company where she worked for over twenty five years until her retirement in 1997.  She had a great love of music and enjoyed knitting, gardening, and card club, but for years she focused much of her loving time and attention on her husband, Jerry, until his death in 2012.  She was a former member of the Waseca American Legion Auxilliary, and she sang with the "Sweet Adelines" for many years.  She was a member of Faith United Methodist Church in Waseca, and a former member of the Waseca Evangelical United Methodist Church where she sang in the choir, was very active in the church circle, and volunteered often to help with luncheons and activities.  Alice's family would like to offer a special "thank you" to the staff at Colony Court Memory Care for the loving care that Alice received while living there.
Alice is survived by one brother-in-law, Donald Robinson of Fergus Falls; three sisters-in-law, Annola Born of Waseca, Mardell Robinson of New Richland, and Norma Enlund of Ellendale; many nieces, nephews, and their families; and two dear friends, Janet Sonnek and Bernetta Wolff of Waseca.  She was preceded in death by her parents; her husband; and four brothers.
Visitation will be held from 4-7 PM on Thursday, May 29, 2014 at Dennis Funeral & Cremation Services in Waseca, and will continue for one hour before the service at the church on Friday.
Funeral services will be held at 10:30 AM on Friday, May 30, 2014 at Faith United Methodist Church in Waseca, with Rev. Victor Waters officiating.  Interment will follow at Woodville Cemetery.  In lieu of flowers, memorial donations may be directed to Mayo Clinic Health System Hospice, to the Waseca Transportation Project, or to a recipient of the donor's choice.