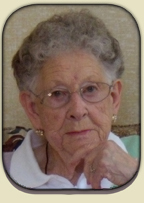 Ruth Mae Ross

RUTH MAE ROSS, age 93 of Waseca died on Tuesday, February 18, 2014 at the Lake Shore Inn in Waseca.

Born on May 4, 1920 in Alton Township, Waseca County, Minnesota, she was the daughter of Fred and Emma (Doss) Lau.    She attended rural Waseca County School and Waseca Central High School.  Ruth married Orville Ross on November 4, 1941 at St. Paul Lutheran Church in Waseca.  She worked for Preuss Bakery for over 18 years.  Ruth was a member of St. Paul Lutheran Church and its Cotta Guild, Quilters and 29ers.  She was also a member of the Waseca American Legion Auxiliary and Our Gang.

She is survived by three children, Gary Ross and James Ross of Waseca and Diane (Fred) Ventura of Owatonna; 13 grandchildren; and 28 great grandchildren.  She was preceded in death by her parents, husband, one son in infancy, three grandchildren, one brother, and three sisters.

Funeral services will be held on Saturday, February 22, 2014 at 11:00 AM at St. Paul Lutheran Church in Waseca with Rev. David Baumgarn officiating.  Visitation will be held on Saturday from 9:30 AM until the time of services at the church.  Burial will follow at Woodville Cemetery.