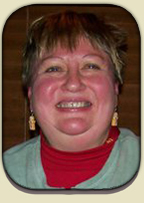 Julie Ann Rydén

JULIE ANN (LUNDBERG) RYDÉN went to be at home with her Lord on Wednesday, January 15, 2014. 

Julie was born to Darrel and Betty (Lundberg) Lundberg on December 10, 1957 in Durand, Wisconsin.  Julie attended Pepin Public Schools in Pepin, WI between 1963 and 1971.  In 1971 she moved with her family to New Richland, MN where Julie attended New Richland-Hartland High School and graduated in 1976.  From 1976-1978, Julie attended North Park College in Chicago, IL.  From August 1977 until February 1978, Julie was an exchange student at Sodra Vatterbygdens Folkhogskola in Jonkoping, Sweden.

On August 30, 1980, Julie was united in marriage to Sven Rydén at Vetlanda Missionskyrka in Vetlanda, Sweden.  She resided in Sweden for 28 years.  During that time she worked as a homemaker and mother of four children.  Julie learned to read, write and speak Swedish during her years there and attended Swedish LPN school among other things.

In 2007, Julie moved to Waseca where she was employed at Wal-Mart from 2007 until 2010.   She will be remembered for her beautiful smile and loving personality.

Julie is survived by her ex-husband, Sven Rydén of Nykoping, Sweden; son, Ryan (Sharon) Rydén of Apex, NC, daughter, Robyn (Chris) Ballnik/Rydén of Milford, MI, son, Ross Rydén of Stockholm, Sweden and daughter, Ronja Rydén of Uppsala, Sweden.   She is also survived by her sister, Donna (Keith) Hullopeter of Pepin, WI; brothers, Kenneth Lundberg of Rosemount and David (Karen) Lundberg of Ellendale; brother-in-law, Bertil (Masumi) Rydén of Stockholm, Sweden; Inger (Sigmund) Tveitehagen of Al, Norway and best friend, Cindy (Brian) Lewer of Waseca.   Julie is also survived by numerous nieces, nephews, great nieces and nephews, and aunts and uncles.  She was preceded in death by her parents, her parents-in-law, Arvid and Britta Pettersson; grandparents, uncles, and an aunt.

A Celebration of Life will be held at Christ Community Church in Waseca on Sunday, January 19, 2014 at 3:00 PM with visitation one hour prior to the service at the church.  Julie has requested that bright, happy colors be worn at the service.