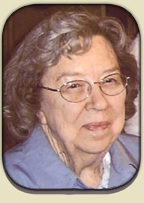 Verna E. Sandbeck
VERNA ELAINE SANDBECK, age 93 of Waseca, died on Wednesday, September 17, 2014 at the New Richland Care Center. 
Born near Wall Lake, Iowa, on June 11, 1921, Verna was the daughter of William and Esther (Gustafson) Paysen.  She graduated from Wall Lake High School and was very proud of her academic successes while there.  After high school, she traveled to Baltimore and worked in a defense plant at the start of World War II.  She then returned to Iowa and met her future husband, Martell "Sandy" Sandbeck while working at a local train station.  Following their marriage, they moved to Minnesota and lived in Rochester, Janesville, and Waseca.  She worked at home raising her children and occasionally worked outside the home at local businesses.  Verna enjoyed bird watching and Western television shows.
Verna is survived by three children, Stuart (Gayle) Sandbeck of North Mankato, Connie (Danny) Storlie of Waseca, and Doug (Jenny) Sandbeck of Waseca; four grandchildren; two great-grandchildren; and one sister, Melba Auen of Iowa.  She was preceded in death by her husband; and two brothers, Harold and Lloyd Paysen.
Private family services will be held at a later date.