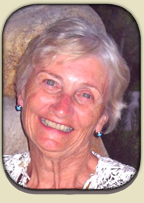 Barbara Sankovitz
Barbara Jean Sankovitz, age 79, of Waseca, passed away peacefully with family by her side, on August 8, 2014 from complications due to Alzheimer's Disease. She will be deeply missed by her family and all those who loved her.

Born on March 7th, 1935, in Glencoe, Minnesota, she was the second of six children born to Leo Lueken and Gertrude (Borgenhagen) Lueken. She graduated from Mankato High School in 1953 and continued her studies at St. Teresa's College in Winona where she received her BA degree in Music. She obtained her Master's Degree in Music Education from Mankato State University in 1966 and taught Drama and English from 1959 to 1964 at the Southern School of Agriculture in Waseca. Prior to that she taught in Mosinee, Wisconsin, and in Gibbon, Minnesota.

From 1970 to 1977 Barb was the Choir Director of Sacred Heart Church in Waseca. Barb also served as a 1973 Charter Member of the Waseca Chorale and continued singing with the Chorale until 1992. In addition she sang as a soloist in the Waseca High School Jazz Band and at many community and church performances. She graciously shared her love of music with others by teaching local students both voice and piano lessons. Upon retirement, Barb sang as a Soprano with the Fountain Hills, Arizona, Community Chorale and the St. Dominic Catholic Mission Choir in Rio Verde, Arizona.

Over the years she was actively involved with various church and civic committees. She was a Vice President and Director of Frankson Investment Corporation, a Director of First National Bank and, for several years, Editor of the bank's senior citizen newsletter. She also served as a member of the American Association of University Women, an active member of the Monday Study Club, a Daughter of America and played golf regularly as a member of Waseca Lakeside's Women's Golf Association.

Barb was an avid golfer and both an alpine and cross country skier. She enjoyed traveling through Europe and the United States and attending the symphony, plays and operas in Minneapolis and Phoenix, Arizona. She was a kind, caring and gentle woman with a tremendous love of life and her tireless optimism was an inspiration to all who knew her. She was noted for her gracious manner, concern for others and wonderful sense of humor. She was a beautiful person whom people admired. She leaves behind so many precious memories that show us how one life can truly make a difference.

In 1959 Barbara married Richard Sankovitz, husband of 55 years, at the Church of the Holy Rosary in North Mankato. She always felt that family was her greatest legacy and was blessed with five children: Ann (Bernard) Gaytko, Katherine (Glenn) Buland, Thomas (Gretchen) Sankovitz, Elizabeth (Jon) Danger and James (Kristin) Sankovitz. Her 13 grandchildren have always held a special place in her heart: Michael and Maxwell Gaytko; Jacob and Maddie Buland; Abby, Eric and Eliza Sankovitz; Sam, Sydney, Jack and Meghan Danger; and Frank and Luke Sankovitz.

She is survived by her sisters, Sandra (Mark) Rutter of Hinsdale, Illinios, Tom (Jill) Lueken of Naperville, Illinios, Mary Lou (Skip) Hills of Kingston, Ontario, Canada, Nancy Vogt of Worthington, Minnesota and by many loving nieces and nephews. Her older sister, Dawn Higgins – Woods, preceded her in death.

Visitation will be from 4:00 pm to 8:00 pm on Tuesday, August 12, 2014 at Dennis Funeral Home in Waseca. Her life will be celebrated at Sacred Heart Church at 11:00 am on Wednesday, August 13, 2014, with interment at Calvary Cemetery in Waseca immediately following the service.

The family expresses their gratitude and appreciation to the nurses and support staff at Colony Court Memory Care in Waseca, Highview Hills Care Facility in Lakeville, Minnesota and Waseca Memorial Hospital/Mayo Clinic Health System.

The Family prefers memorials to the Waseca Area Foundation.