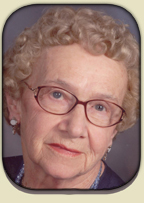 Della J. Schmidtke
DELLA J. SCHMIDTKE, age 88 of Waterville, died on Friday, April 4, 2014 at the Waterville Good Samaritan Center.

Born on March 6, 1926 in Le Sueur County, Minnesota she was the daughter of John and Mary Jane "Mame" (Burke) Watzek.  She graduated from Waterville High School in 1943.  Della married Donald Schmidtke Feb. 24, 1946 at St. Peter's "Bell" Lutheran Church.  Della worked at Gamble's store in Waterville before working several years at E.F. Johnson Co. in Waseca.  She later worked at Coast to Coast in Waterville.  Della enjoyed sports, playing cards, dancing and bowling.  She religiously followed all the Minnesota sports teams, Twins, Timberwolves, Gophers, Vikings and especially the Wild.  In the 1970's she took up the game of golf.  She was a member of the Montgomery Golf Club and had won the women's golf league title numerous times.  Della would never turn down a card game, whether the game was cribbage, bridge, snouse, euchre or five hundred.  She loved the competition and wanted to win.  She had her "Stroke of Luck" while gambling that she always carried with her. Through the years she also made numerous quilts and provided a quilt to each of her family members.  Della was a member of Trinity Lutheran Church in Waterville, the Faribault Eagles Club and had been a volunteer at the Faribault Hospital.

Della is survived by one daughter, Sherry (Robert) Rickard of Cottage Grove; one son, Tim (Toya) Schmidtke of Waterville;  six grandchildren, Adam Rickard, Angela Rickard (fiancé, Paul Giovannoni), Aaron (Danyel) Rickard, Tyson (Erin) Schmidtke, Tona (Luke) Speltz, Tory (Kayla) Schmidtke; twelve great grandchildren; one great great granddaughter; special friend, Vern Jackel; and nieces and nephews.  She was preceded in death by her parents, husband, three brothers and three sisters.

Visitation will be held at Dennis Funeral & Cremation Services in Waterville on Tuesday, April 8, 2014 from 4-8 PM and will continue one hour prior to the service at the church on Wednesday.

Funeral services will be held on Wednesday, April 9, 2014 at 11:00 AM at Trinity Lutheran Church in Waterville with Rev. David Mumme officiating.  Burial will follow at Sakatah Cemetery in Waterville.