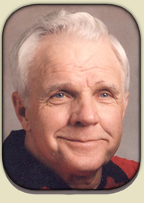 Vincent Schultz
VINCENT J. SCHULTZ, age 85 of Waseca, died on Friday, October 31, 2014 at his home.
Born in Waseca County on September 12, 1929, Vince was the son of Jack and Lillian (Ross) Schultz.  He attended country school in Waseca County.  On June 3, 1950, he married Mary Kajewski at St Mary's Catholic Church, in Waseca County.   He farmed for most of his life until he and Mary moved into Waseca in 1991.  He then began working at Lakeside Golf Course.   Vince was a member of Sacred Heart Catholic Church in Waseca, Le Sueur Pioneer Power, the State and National International Harvester Collector Club, and the Gopher State Tractor Pullers.   He enjoyed collecting IH Tractors and IH memorabilia, and listening to polka music.
Vince  is survived by one son, Kevin Schultz (Deanna Henderson) of Waseca;   two granddaughters; four great-grandchildren; one brother, Ray (Lina) Schultz of Newhall, CA; two sisters, Shirley Tetzloff of Elysian, MN and Dorothy (Swan) Tollefson of New Richland; several nieces and nephews; and friend, Lois Byrne of Waseca.  He was preceded in death by his wife, Mary; one son, Curt Schultz; and one brother-in-law, Robert (Bob) Tetzloff.
Private family services will be held at Dennis Funeral & Cremation Services in Waseca with Fr. Joe Fogal officiating.   Burial will follow at Calvary Cemetery in Waseca County.