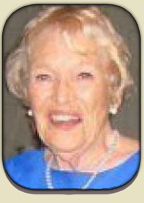 June M. Senn
JUNE MARJORIE SENN, age 87 of Waseca, Minnesota, died on Thursday, August 21, 2014 at Lake Shore Inn in Waseca. 
Born on September 18, 1926, June was the daughter of Clarence and Minnie (Malleuge) Smith.  She graduated from Waseca High School before attending Carlton College in Northfield and the University of Minnesota.  On July 9, 1949 she married Richard Donald Senn in Waseca, MN.
She is survived by her children, Craig (Jill Angen) Senn of Eden Prairie, MN, and Connie (Tom) Wylie of Davidson, NC; four grandchildren, Caroline Senn, Charlie Senn, Allison (Dan) Wylie Hollins, and Meredith Wylie; and one great-grandchild, Madeline June Hollins.  She was preceded in death by her parents; husband, Richard Senn; one sister, Maxine Howard; and one brother, Glen Smith.
Memorial services will be held at 2:00 PM on Monday, September 15, 2014 at Grace Lutheran Church in Waseca with Rev. Howard White officiating.  A private family interment will be held at Woodville Cemetery in Waseca.