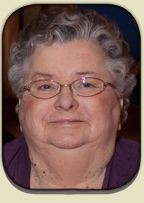 Janice E. Sommers
JANICE E. SOMMERS, age 74 of Waseca died on Wednesday, September 10, 2014 at St. Mary's Hospital in Rochester.
Born on October 10, 1939 in rural Waldorf, Minnesota, she was the daughter of Clifford "Red" and Arlowine (Ward) Moore.  She attended school in Waldorf and Mapleton.  Janice married Allen "Bud" Sommers on December 3, 1956 at the United Church in Mapleton.  They lived and farmed in Waseca County for many years before moving into Waseca in 1989.  Janice had also worked as a cook at Lake Shore Inn and the Waseca Public Schools.  She enjoyed farming and spending time with her family, playing cards and collecting Holstein cows.  She was a member of Trinity Lutheran Church – Wilton. 
She is survived by three sons, David (Lori) Sommers of Waseca, Rick (Bonita) Sommers of Waseca, and Tom (Julie) Sommers of Janesville; six grandchildren, Derrick (Amanda) Sommers, Greg (Jenny) Sommers, Kyle (Kate) Sommers, Carrie (Chad) Chum, TJ Sommers, and Simon Sommers; and three great grandchildren, Haylee Sommers, Peyton Sommers, and Hannah Sommers.  Janice is also survived by her special friend, Donald Stiernagle of Waseca; one sister, Shyrl Dorn of Mankato; and sister-in-law, Marian Moore of Mapleton.   She was preceded in death by her parents; husband; and one brother, Melvin Moore.
Visitation will be held at Trinity Lutheran Church-Wilton on Friday, September 12, 2014 from 4-7 PM.
Funeral services will be held on Saturday, September 13, 2014 at 2:00 PM at Trinity Lutheran Church-Wilton with Rev. Larry Sipe officiating.  Burial will follow at Woodville Cemetery in Waseca.