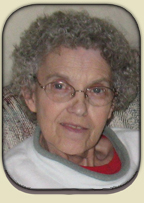 Sandra "Sandy" Spielman
SANDRA LYNN SPIELMAN, age 69 of Waseca, died on Sunday, March 2, 2014 at the New Richland Care Center.
Born in Crumpler, West Virginia on January 23, 1945, Sandra was the daughter of Garland and Thelma (Sexton) Workman.  As a young woman she graduated from Marshall High School in Minneapolis.  On July 30, 1966 she married Leonard Spielman in Minneapolis.  She lived in Winnebago for many years where she worked as an aide in a nursing home and operated her own daycare business.  After moving to Waseca in 1979 she held various jobs including working as an aide at the New Richland Care Center and as a caregiver at Elm Homes in Waseca until retiring in 2010.  She enjoyed spending time with her grandkids and her dog, Shady.  She was a member of St. Paul Lutheran Church in Waseca.
Sandra is survived by two sons, Kenneth (Laurie) Spielman of Pemberton and Tim Spielman of Rockford, IL; seven grandchildren, Dennis Bishop, Andy Bishop, Tony Spielman, Kayla Spielman, Sammy Spielman, Ella Spielman, and Aubrey Spielman; four great-grandchildren; six sisters; one brother; and several nieces and nephews.  She was preceded in death by her parents; her husband; and two sisters.
Funeral services will be held at 2:00 PM on Monday, March 10, 2014 at Dennis Funeral & Cremation Services in Waseca, with Rev. David Baumgarn officiating.  Visitation will be held for one hour before the service at the funeral home.  Interment will take place at Woodville Cemetery in Waseca at a later date.