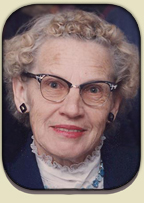 Gertrude Spitzack
Gertrude Spitzack, 83, of Waterville, passed away at Good Samaritan Center, Waterville on October 11, 2014.
Gert was born December 6th, 1930 to Frank and Anna (Bittrich) Mlenek in Rice County. She was baptized and confirmed at Trinity Lutheran Church in Waterville, and attended Country School. She worked various jobs including waitress, babysitter and grocery clerk during her early years. On June 5th, 1955, she was united in marriage to Martin Spitzack at the Trinity Lutheran Church, Waterville. They were members of St. John's Lutheran Church, Kilkenny. Marty passed in 2002. They were blessed with three children who survive her – Louise Anderson of Waterville, Millie (Larry) Kewatt of Columbia Heights, and Jane (Brad) Moeckly of Medford.

She is survived by grandchildren: Jessica (Jerry) Koski of Waterville, Suzy (Sam) Murty of Eau Claire, WI, Vanessa (Eric) Kaiser of Waseca, Brandon Moeckly of Medford, Ryan (Jennifer) Kewatt of Columbia Heights, as well as great-grandchildren: Megan, Kyle & Riley Schmitz, Izac and Ashlyn Kaiser, Harrison Murty, and Dwight and Oliver Kewatt. She is also survived by half-siblings – Irene (Dick) Sutter, Art Mlenek, Lucy (Clifford) Schmidtke, Lyle Mlenek, Ray (Bonnie) Mlenek, Sharon (Norm) Malecek, Lisa (Mike) Kletschka as well as many other cousins, nieces, relatives and friends, including former son-in-law, Tex Anderson.

She was preceded in death by her husband, Marty and half-sister Sylvia Weilage.

Gert had many loves including fishing, baking, playing cards, and gardening, but most of all she loved family – her children, grandchildren and great-grandchildren.

Visitation will be held at Dennis Funeral & Cremation Services in Waterville on Monday, October 13, 2014 from 4-8 PM and continue on Tuesday, one hour before services at the church.

Funeral services will be held on Tuesday, October 14, 2014 at 10:30 AM at St. John's Lutheran Church in Kilkenny with Rev. Juan Palm officiating. Burial will follow at Sabre Lake Cemetery.