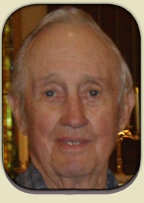 Orville Steinke
ORVILLE LESTER STEINKE, age 81 of Waseca, died on Tuesday, May 13, 2014 at his home.
Born in Waseca on July 17, 1932, Orville was the son of Carl and Loretta (Anderson) Steinke.  He attended country school in Waseca County. Orville married the love of his life Delores Madson on April 5, 1951 at Trinity Lutheran Church in Janesville.  He and his wife operated a farming operation in rural Waseca since the time they were married.  Orville enjoyed hunting, fishing, and spending time with his family.  He was a member of St. Paul Lutheran Church in Waseca, and The National Rifle Association.
Orville is survived by his children, Steve Steinke of Waseca, Alan (Mary) Steinke of Kiester, and Machelle Steinke and fiancé Dan Meyers of Kiester; seven grandchildren, Palo (Lori) Steinke, Kari White, Shane Steinke and his special friend Lacy Krell, Shannon Steinke and her special friend Chris Hamson, Cory Velzke, Amanda Velzke and her special friend Nicholas Fure, and Eric Velzke and his fiancé Brittany Albers; eight great-grandchildren, Carson and Ashlyn Steinke, Austin, Dylan, Oakley, and Asher Steinke, Carter Hamson, and Paige Petrolla; one sister, Beatrice Gekeler of Waseca; and one brother-in-law, Harold Anderson of Eagle Lake.  He was preceded in death by his parents; his wife, Delores; one sister, Bernice Anderson, and one brother-in-law, Harold Gekeler.
Funeral services will be held at 3:00 PM on Saturday, May 17, 2014 at St. Paul Lutheran Church in Waseca.  Visitation will be held one hour before the service at the church.  Interment will follow at Woodville Cemetery in Waseca.