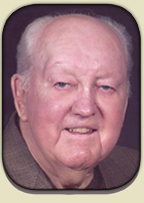 Oscar O. Storlie Jr.

OSCAR ORVILLE STORLIE JR., age 93 of Waseca, died on Sunday, August 24, 2014 at Lake Shore Inn in Waseca.

Born on April 9, 1921 in Waseca County, Minnesota, he was the son of Oscar and Ellen (Bagne) Storlie Sr.  He graduated from Waseca Central High School in 1939.  Oscar served in the U.S. Navy from 1945 until his honorable discharge in 1946.  He worked at the Byron Farm Store and later Brown Printing Co. for 19 years.   Oscar married Loretta Cole on December 28, 1965 in Medford.   Oscar also owned and operated Phillips Petroleum for 10 years and was a crossing guard at CIS for 15 years.     He was a member of North Waseca Lutheran Church and the Waseca American Legion.

Oscar is survived by three step-children, Gary (Jill) Tobin of Waseca, Mark (Beverly) Tobin of Waseca, and Kathy (Richard) Anderson of Hastings; seven step-grandchildren and six step- great grandchildren.   He is also survived by special friend, Jeanette Rosenthal of Waseca.   He was preceded in death by his parents, wife, and six brothers- Berdin, Alvin, Selmer, Earl, Robert, and Curtis.

Funeral services will be held on Wednesday, August 27, 2014 at North Waseca Lutheran Church at 11:00 AM with Rev. Nancy Hansen officiating.  Burial will follow at Calvary Cemetery in Waseca.   Visitation will be held on Wednesday, one hour before services at the church.