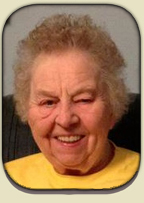 Florence Thompson
FLORENCE B. THOMPSON, age 91 of Waseca, died on Monday, June 9, 2014 at Lake Shore Inn in Waseca.
Born in Sheldon, Iowa on May 26, 1923, Florence was the daughter of Henry and Sadie (Dykstra) Bremer.  She attended school in North Dakota.  On March 27, 1953 she married George Thompson in Albert Lea.  During World War II she lived in Patterson, New Jersey and worked at a venetian blind business.  She later worked at Wilson's in Albert Lea until 1964.  She then worked doing day care for many families in the New Richland/Waseca area for several years.  She was a member of Vista Covenant Church in Waseca County where she was a member of the Covenant Women and assisted with Vacation Bible School.  Florence was an inspiration with her faith and smile.  She was a loveable person and always thought of others first.  She will be greatly missed by her family and friends. 
She is survived by one daughter, Cindy (Brian) Lewer of Waseca; three grandchildren, Stacy (Andrew) Hadt of Owatonna, David (Jennika) Lewer of Waseca and Christine Lewer of Raleigh, NC;  five great-grandchildren, Riley, Carter, & Abigail Hadt and Landon & Liam Lewer; siblings, Alice Flim of Albert Lea, Jeppe (Charlotte) Bremer of Blooming Prairie, John Bremer of Seattle, WA, Sidney (Audrey) Bremer of Albert Lea, Sadie (Edward) DeJong of Arizona City, AZ; one brother-in-law, Harold (Helen) Thompson of New Richland and many nieces and nephews.  She was a second grandma and mother to many. She was preceded in death by her parents; her husband; two sisters; and two brothers. 
Visitation will be held from 4-7 PM on Thursday, June 12, 2014 at Dennis Funeral & Cremation Services in Waseca and continue one hour before service at the church on Friday. 
Funeral services will be held at 2:00 PM on Friday, June 13, 2014 at Vista Covenant Church in Waseca County with Rev. Steve Thompson officiating.  Interment will follow at Hartland Cemetery.