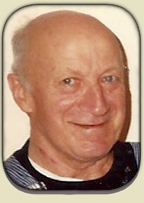 Elmer E. Villwock

ELMER ERICH VILLWOCK, age 88 of Waterville died on Thursday, January 30, 2014 at Traditions in Waterville.

Born on March 8, 1925 in Morristown Township, Rice County, Minnesota, he was the son of Otto and Alma (Hagle) Villwock.  He attended school at Trinity Lutheran in North Morristown and Rice County District #60.   Elmer married Lorna Schmidtke on April 28, 1950 at St. Peter's "Bell" Lutheran Church.  Together they lived and farmed in Rice County until moving to Waterville in 1972.  After moving to Waterville, Elmer worked at McQuay's in Faribault for nearly 20 years.  He had also worked part time at H&S Logging in Waterville.  Elmer enjoyed hunting, fishing and gardening.  He loved to socialize and was a friend to many.   He was a member of Trinity Lutheran Church in Waterville where he had served on the finance board. 

He is survived by one daughter Barb Herrley and friend, Bob Schroeder of Eagle Lake; one granddaughter, Lisa Kreuzer of Mankato; and three step-grandchildren, Melanie, Lisa, and Tim Herrley.  He is also survived by two great grandchildren and several step-great grandchildren.  He was preceded in death by his parents, wife, one daughter, two sons, three brothers and four sisters.

Funeral services will be held on Monday, February 3, 2014 at 11:00 AM at Trinity Lutheran Church in Waterville with Rev. David Mumme officiating.  Burial will follow at Concordia Cemetery.  Visitation will be held on Monday, one hour before services at the church.

.