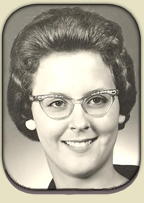 Stephanie Jo White
STEPHANIE JO WHITE, age 68 of Burnsville, formerly of Waseca, died on Sunday, July 13, 2014 at Valley Ridge Assisted Living in Burnsville.
Born in Marshalltown, Iowa on October 10, 1945, Stephanie was the daughter of Donald and Dorothy (Ayers) White.  She moved with her family to Waseca in 1954, and graduated from Waseca High School in 1964.  She then attended and graduated from Hamilton Business College in Mason City, IA.  After graduating from Hamilton she was employed by Sperry for 24 years as a Systems Analyst.  Then she worked for various companies as a computer programmer until her retirement at age 65.  She enjoyed reading and spending her time with family and friends, was a member of the Waseca American Legion Auxiliary for 22 years, and was a past member of the Auxiliary Marching Unit.
She is survived by two sisters, Sandra (Ron) Lebert of Rochester, MN, and Donna (Joel Duff) Duffina of Burnsville, MN; one sister-in-law, Bonnie White and her friend Doug Prescher of Waseca; and nine nieces and nephews, Scott (Jinette) Lau of Eau Claire, WI, Todd Lau of St. Cloud, Chad (Jane) Lebert of Mankato, Steven (Jamie) Lebert of Fairmont, Terry (Cary) Duffina of Salinas, CA, Gary (Lisa) Duffina of Auburn, WA, Becky (Derek) Brewer of Waseca, Steven (Della) White of Davenport, FL, and Kelly (Vaughn) Ihrke of Isanti.  She was preceded in death by her parents and her twin brother, Steve White.
Funeral services will be held at 11:00AM on Friday, July 18, 2014 at Dennis Funeral & Cremation Services in Waseca, with Rev. Victor Waters officiating.  Visitation will be held on Friday from 9:30 AM until the time of the service at the funeral home.  Interment will follow at Woodville Cemetery in Waseca. 
In lieu of flowers, memorial donations may be directed to St. Jude Children's Research Hospital.