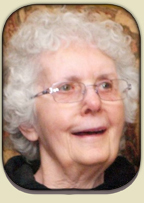 Donna M. Wilmes
DONNA MAE WILMES, age 78 of Waseca, formerly of Waterville, died Wednesday, March 19, 2014 at her home following a recent diagnosis of cancer.
Born in St. Paul on August 24, 1935, Donna was the daughter of Clarence and Gladys (Casto) Johnson. She lived in St. Paul and Mankato before graduating from Mankato High School in 1953. After graduation, she started LPN training at Mankato Hospital. On June 20, 1953 she was united in marriage to Vincent Paul Wilmes at St. Peter and Paul's Catholic Church in Mankato. Together they moved from Mankato to Waterville in 1960 where they owned and operated Wilmes' Resort on Lake Tetonka. Later in life, Donna attended Mankato Vo-tech and received certification in giving medications. She worked at various centers in Mankato, Waterville, Janesville, and LeCenter. Donna loved to read, watch the birds, and take care of her dogs, Diamond and Savannah. Most of all, Donna truly enjoyed spending time with her seven children, fourteen grandchildren, and seven great-grandchildren.
She is survived by daughters, Lynn (Craig) Connors of Waseca, Monica (Jeff) Wepking of Avon, SD, and Mary Hagel of New Prague; sons, Wayne (Jan) Wilmes, Gerard (Melissa) Wilmes, Gregory (Marsha Guibbert) Wilmes, and Jason Wilmes all of Waterville; step-mother, Doris Johnson of St. Paul; sisters, Doris Ann (Bob) Meyers of Irvine, CA, and Diane (Dick) Quinn of Lake Elmo; brother, Bobby (Patti) Johnson of Coon Rapids; brother-in-law, Jerry Wilmes of Remer; grandchildren, Bradley (Trudi) Connors of Waseca, Melissa (Dan) Swenson of Deer River, Cory (Jenny) Connors of Waseca, Jon (Jamie) Wepking of Moorhead, Rachel Hagel of Superior, WI, Clayton (Emily) Wilmes of St.Cloud, Jennifer (Marshall Doeden) Wepking of Sibley, IA; Brandon, Blake and Collin Wilmes of Faribault, and Brooke, Peyton, Jaelyn and Janessa Wilmes all of Waterville. She was preceded in death by both of her parents; her husband Vincent Paul Wilmes in 2006; her parents-in-law, Nick and Clara (Becker) Wilmes; her brother Johnny C. Johnson; brother-in-law Merle Wilmes; sisters-in-law, Elaine, Beverly, Joyce, and Gretchen Wilmes and Sue Johnson; and daughter-in-law Jamie Rae Wilmes.
Visitation will be held Saturday, March 22, 2014 from 11-2 PM at the Prosch-Dennis Funeral Home in Waterville. A prayer service lead by Rev. Paige Whitney will begin at 2:00 PM at the Funeral Home. Interment will follow at the Calvary Cemetery in Waterville. Luncheon will then be held at Grace Lutheran Church in Waseca.