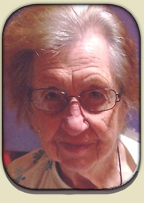 Lois Yess

LOIS ORPHA YESS, age 91 of rural Waseca died on Sunday, December 14, 2014 at her home.

Born in Waseca County, Minnesota on November 1, 1923, Lois was the daughter of Henry and Mildred (Suddendorf) Bauman.  She attended Waseca country schools.  On November 1, 1946, Lois married Lawrence Yess at St. John Lutheran Church in Waseca.  Through the years she worked at various local businesses including Birdseye Foods, E. F. Johnson Company, Brown Printing Company, Herter's Incorporated, and Misheks.  She enjoyed horses, embroidery, sewing, reading, and watching western films and television shows.  She was a member of St. John Lutheran Church in Waseca.

Lois is survived by one sister, Darlene Bauman (Stan Erickson) of Chetek, WI; and several nieces and nephews.  She was preceded in death by her parents; husband; one son, Larry Yess; and one brother, Donald Bauman.

Funeral services will be held at 1:00 PM on Wednesday, December 17, 2014 at St. John Lutheran Church in Waseca with Rev. John Omans officiating.  Visitation will be held one hour before the service at the church.  Interment will follow at Wilton Cemetery in Waseca County.